About Raven Kaldera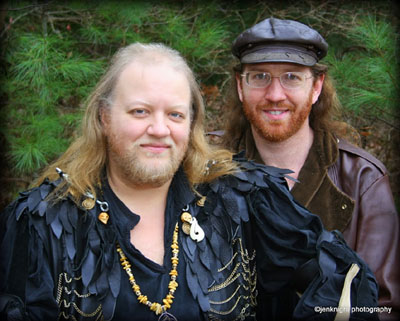 I'm a neo-pagan shaman, and I'm also a long-time practitioner of BDSM. People keep asking me how I can mix my religion with my kinky sex life....or they're horrified at the idea of mixing the two. Yet the Ordeal Path of magic and spirituality has been used by other cultures for thousands of years, from the Lakota Sun Dance to the Hindu Kavandi ceremony to the Catholic flagellatory monastic orders. I find that the further I go along this path, the more these things all have in common.
My boy Joshua and I have presented workshops on BDSM & Spirituality with a number of events and organizations, including Dark Odyssey, Free Spirit's Sacred Sexuality Beltane and the Boston Area Sexuality & Spirituality Network. If you are interested, please see the Listing of Available Workshops. We also present classes on BDSM/energy work, and Master'slave relationships, including advanced topics such as M/s spirituality and disability.
To be notified of events in your area that Raven Kaldera will be at,
Sign up for Raven's Email Notifications!